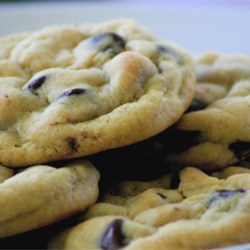 If you like your chocolate chip cookies soft, this is a great recipe. I do find that the dough needs to be at room temperature for them to turn out. So if you freeze the dough, let it sit out at room temperature until it is soft. Or if you have had it in the fridge, again, let it sit out. It is not a great freezer to oven recipe. I think Steff has a good one for that?
NOTE: I think is what makes this so good is the use of the pudding mix. I usually just use one large package as apposed to the two small. But it is nice to know you can half it and use only one small package as this does make a lot of cookies. Also make suer you only cook it for 10 minutes (depending on your oven). They should just be turning light brown around the edges and soft in the middle. Take them out and let them sit for a few minutes on the warm pan. That way they don't over cook and stay soft.
AWARD WINNING CHOCOLATE CHIP COOKIES
INGREDIENTS
4 1/2 cups all-purpose flour
2 teaspoons baking soda
2 cups butter, softened
1 1/2 cups packed brown sugar
1/2 cup white sugar
2 (3.4 ounce) packages instant vanilla pudding mix
4 eggs
2 teaspoons vanilla extract
4 cups semisweet chocolate chips
2 cups chopped walnuts (optional)
DIRECTIONS
Preheat oven to 350 degrees F (175 degrees C). Sift together the flour and baking soda, set aside.

In a large bowl, cream together the butter, brown sugar, and white sugar. Beat in the instant pudding mix until blended. Stir in the eggs and vanilla. Blend in the flour mixture. Finally, stir in the chocolate chips and nuts. Drop cookies by rounded spoonfuls onto ungreased cookie sheets.

Bake for 10 to 12 minutes in the preheated oven. Edges should be golden brown.